Rheem Hybrid Water Heaters: Explore Efficient Water Heating

Rheem heat pump water heater (hybrid)
Find out what makes Rheem hybrid water heaters the preferred type among homeowners.
If you are looking to buy a gas or electric tank-type device that will save you time, energy and money, and giving you the ability for enhanced control, Rheem hybrids are for you.

Rheem hybrid water heaters: Things to consider
Rheem hybrids are designed as the most efficient electric water heaters because they combine the heat pump technology and quality elements found in electric water heaters, resulting in ultra-efficient, reliable, and safe operation. In addition to efficient water heating, hybrids also offer free space cooling.
And according to the manufacturer, Rheem hybrids can save you approximately $40 a month, which is around $480 every year. Considering that the warranty is 10 years, there will be energy cost savings close to $4800 over 10 years. With such impressive savings, the hybrids can pay for itself in approximately 3 years.
Ultra-efficient water heating and significant savings are possible due to the Rheem hybrid's advanced features, including the high energy factors of up to 3.7. This is what makes these models Energy Star approved and eligible for federal tax credits and other incentives and rebates.
Models review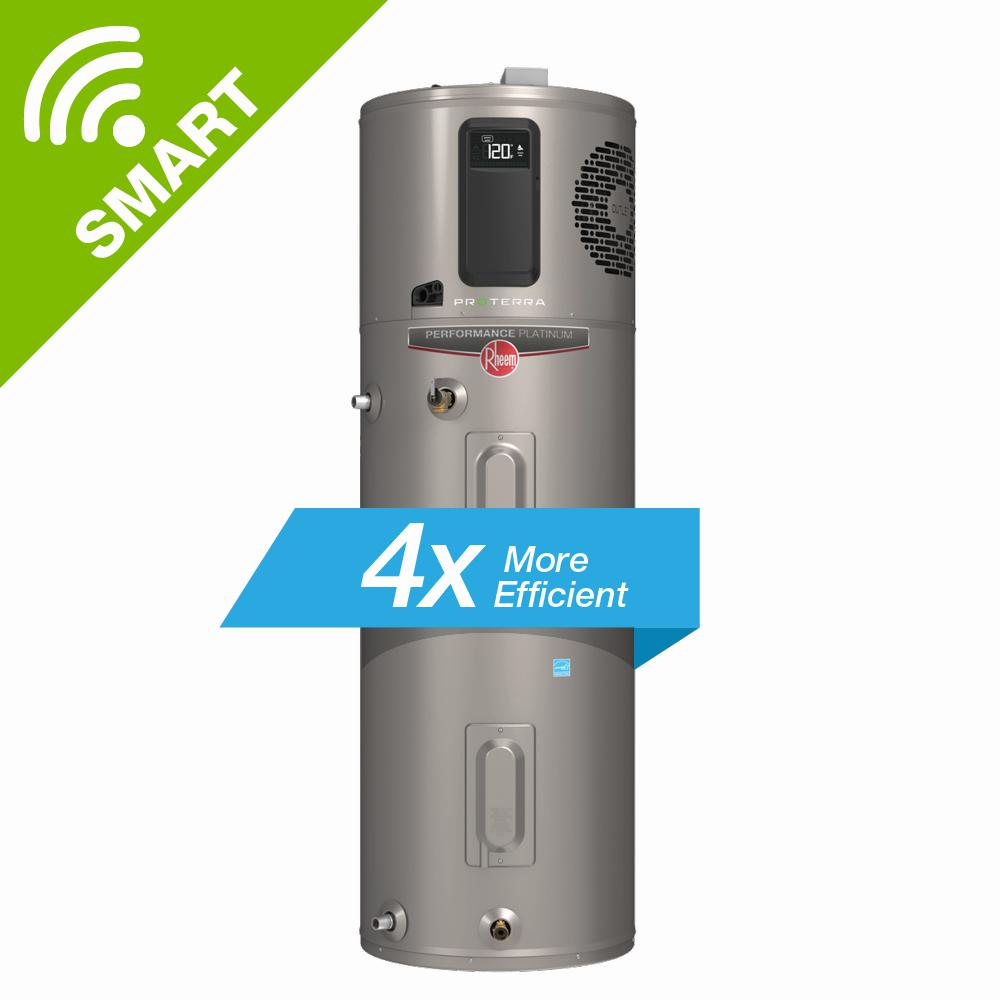 Rheem hybrid water heaters are available in three sizes: 50, 65, and 80 gallons covering large homes where multiple showers can operate simultaneously and provide enough hot water for each.
If you buy a 50-gal hybrid water heater, you can use three showers simultaneously for approximately 8 minutes before the temperature drops.
With a 65-gal unit, you can use up to 5 showers simultaneously, while the largest, 80-gal unit can deliver hot water up to 7 showers continuously for 8 minutes.
Features

Ultra-efficient water heating and fast, hot water delivery 

Rheem hybrids are ultra-efficient water heaters whose energy factor is in the range of 3.55 to 3.70, depending on the model. Combined heat pump and electric water heater technology and the 2"-thick insulation make the efficiency even three times higher than the efficiency of the conventional electric or gas type.
The heat pump allows water heaters to operate without generating the heat, which is typical for conventional types. Actually, it works as the refrigerator in reverse; it removes the heat from the warm surrounding air and passes to the refrigerant. Then the compressor increases the temperature of the fluid and finally delivering heat to water.
The hybrids also utilize two Incoloy heating elements, used as a backup, which engages when the heat pump cannot provide enough heat. The heating elements are built from high-quality stainless steel, which has dry-fired protection.
The technical data shows that hybrids can deliver hot water faster than the standard electric water heaters, no matter the size. For example, a 50-gal hybrid unit has a first-hour delivery rate of 67 gallons, a 65-gal unit – 75 gallons of water, and 80-gal model – 89 gallons of hot water.
A recovery rate is 29 GPH on all models. At the same time, one standard 50-gal electric model delivers around 62-64 gallons of hot water and has a recovery rate of 21 GPH. So you got a better deal on hybrids.
Easy installation

Hybrid water heaters are similar to standard electric types; they have a comparable footprint, conveniently top access to the electrical junction box, and side connection for both hot and cold water. These models can be installed in utility rooms, basements, garages even closets. For homes with less space, hybrids can use ducts to get fresh from the outside, or they can operate without ducts, but only if enough air can be delivered.
As they meet Northern Climate Spec and with the ambient temperature operating range from 37 to 145 F, hybrids can now perform well even in regions with colder climates.
Advanced electronics

Rheem hybrid water heaters are equipped with advanced electronics. At the front panel, users can take advantage of the control panel and large LCD screen from where they can control the water temperature, choose one of five operation modes, check the status, history, error codes, and others.
Using the EcoNet WiFi connection and free mobile app, users can remotely control a water heater, comfortable and convenient.
The LCD screen has the water sensor alert built-in, making the sound if there is a leak.
The EcoNet feature makes the heat pump compatible with home automation, energy management, and demand response system.
Smart and safe

Rheem hybrid water heaters are smart and safe. As they are equipped with advanced features and features such as water leak detection, and when combined with your smartphone, you can get mobile alerts right on time if something happens. Whether it is a water leak or an unstable operation, you are covered.
Since the hybrids can also be used in colder regions, naturally, they come with a freeze protection system. Another safety feature worth mentioning is the ECO overheat protection system, protecting users from high temperatures and pressure.
Operating modes
Users can choose one of five operating modes heating the water in the temperature range from 37 to 140 F. You can do this either on the unit's control panel or remotely using your smartphone:
Heat Pump mode – this is the mode when the water heater can get you the highest energy factor. It is recommended to select the heat pump mode when the demand for hot water is low. The energy usage in this mode is the lowest.
High Demand mode – this mode is used in high-demanding applications when more fixtures are used at the same time. Both the heat pump and electric elements are engaged as needed.
Energy Saver mode is factory set and is the recommended operating mode for regular hot water demand. The hybrid water heater will maximize the use of a compressor and minimize the use of heating elements.
Electric Heat mode - the water heater will use the heating elements only, while the heat pump is disabled, which will maximize the use of energy.
Vacation mode allows you to set the water heater for up to 28 days or put it on hold indefinitely.
Conclusion
In today's modern time, where everything becomes digital, smart, and advanced, homeowners are looking for more when it comes to domestic water heating. They prefer comfort and convenience.
As you can see in this review, Rheem hybrids are built to fulfill the hot water needs of a modern family. All the functions are controlled remotely; the advanced design offers various energy-efficient operating modes; they are quiet, safe, and can save you a lot of money.